Plot
In 1939, Walter Otto Wyss emigrated to the USA after a tragic car accident. There he developed a revolutionary hybrid automobile that was never produced. After a love affair with an African-American dancer in Los Angeles he lived in Tokyo at the end of the 1950s as a recluse and learned Japanese. He spent the last 30 years of his life alone on Hawaii. Despite many opportunities to fulfil his dreams of freedom, success and security, he can never quiteset himself free from Switzerland, his mother and his self-reproach and misses the chance to findhappiness.
Walter's nephew, director Tobias Wyss, tells the story of his uncle in a personal manner, making use of moving photographs and videos from the family archive. The Zurich director reconstructs the contradictory biography of his uncle in seven episodes.

Cast
Walter Otto Wyss, Elia Moghini, Pat und Dale Rummer, Bob Burnham, Martinique Landois, Masayuki Ishiguro, Keiko Saito, Eugene Drzymala

Crew
Author and Director
Tobias Wyss
Camera
Andreas Birkle, Tobias Wyss
Sound
Patrick Becker, Peter Zwierko
Editor
Mirjam Krakenberger
Animation
Severin Kuhn
Original music
Daniel Almada
Sound mix
Jürg von Allmen C.A.S., Digiton
Production manager and
assistant director
Peter Zwierko
Producer
Hercli Bundi
Associate Producer
Vadim Jendreyko
In coproduction with
Schweizer Fernsehen (Public Swiss Television SRF)
Info
80 Min.
Language: German, English, Japanese, Italian
Coproduction of Mira Film GmbH and Schweizer Fernsehen
Supported by Swiss Federal Office for Culture, Zürich Film Foundation, Cantons Basel-Stadt and Basel-Landschaft, Suissimage Cultural Fund, Ernst-Göhner Foundation, Migros-Kulturprozent, Community of Comano, Focal Stagepool
ISAN Nr. 0000-0002-7E3C-0000-U-0000-0000-L
Automobiles
At the age of eighteen,Walter builds his first car, the "W1", and two years later he builds the very elegant "W2", which can be seen as a precursor of the famous "MG" built by Morris. After Walter's departure the "W2" is sold and the garage closed by the family; the subject of cars is thus removed from the family memory after the fateful accident of 1934. In America, Walter Otto Wyss' technical know-how is the key to professional success and social recognition. During the course of his professional career he works for FORD, GENERAL MOTORS and CHEVROLET. In 1945, Walter Otto Wyss finally receives an offer of developing his own car. At BEECHCRAFT in Wichita, Walter realises his progressive idea for a hybridcar by developing a prototype.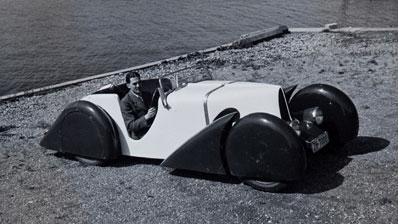 Photography
Walter's quest for a new life with a wife at his side is turning somewhat obsessive, and is primarily taking place behind the camera. He indiscriminately photographs women on the beach, at Mexican and Japanese parties - his temporary partner Martinique Landois also features as a popular subject. Yet to see Walter Otto Wyss' photographic documentation as voyeuristic is too simplistic. These high quality pictures preserving all that surrounds him are, above all, an aid to orientation in his own life. The former engineer uses photography's intrinsic translational power to make the culturally foreign tangible. Be it in America, Japan or Honolulu - the play with a camera enables Walter to draw close to residents in a particular way.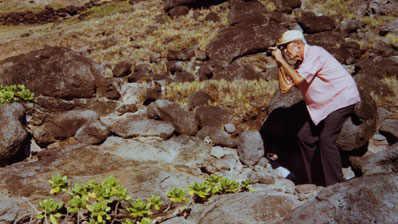 Jazz-Music
In 1946 Walter Otto Wyss attends a Lionel Hampton concert on his thirty-fifth birthday and hears for a first time "Flying Home". The often-covered piece was composed by Benny Goodman, Eddie DeLange and Lionel Hampton in 1939, and is based on an improvised melody that Lionel Hampton whistled to himself as he was waiting to board an aeroplane for the first time in his life. The jazz song accompanies Walter his whole life long.